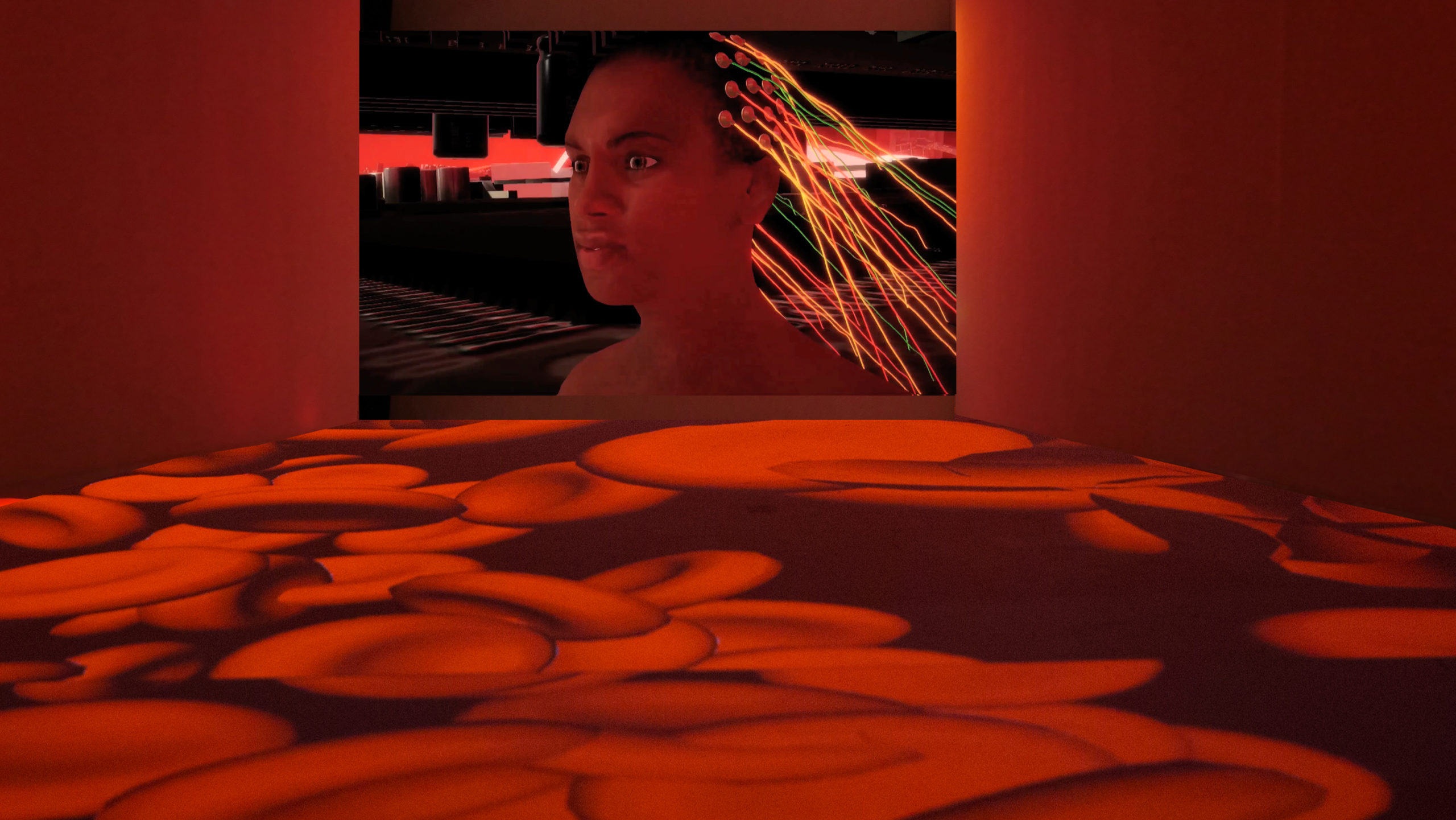 ©SHU LEA CHEANG, UKI Virus, 2018
SHU LEA CHEANG
2021
Virus Becoming
UNE PROPOSITION OVNi co-produite avec le Musée des Arts Asiatiques sous le commissariat de Florent To Lay, avec Banyi Huang. Jusqu'au dimanche 16 mai 2021.
Figure majeure de l'art contemporain et pionnière de l'art numérique, Shu Lea Cheang (née en 1954 et basée à Paris), présente une installation inédite qui se lit comme les prémices de son long-métrage entre science-fiction et réalité alternative virale UKI, en développement depuis une dizaine d'années.
Cheang y imagine un monde qui mélange le cyberpunk aux biotechnologies et où des humanoïdes sont jetés au rebut par des entreprises de biotechnologies pour finalement réapparaître comme virus et ainsi retrouver leur plaisir, leur autonomie et leur capacité à agir sur eux-mêmes et ce qui les entoure.
À travers des récits de science-fiction élaborés depuis plus de 40 ans, Shu Lea Cheang s'attache à déconstruire et réimaginer les catégorisations, les genres et les structures à l'œuvre dans notre monde contemporain. Elle a été récemment choisie pour représenter Taïwan à la Biennale de Venise de 2019 avec l'installation 3x3x6 (2019) au Palazzo delle Prigioni sous le commissariat de Paul B. Preciado.
AVEC LE SOUTIEN du Ministère de la Culture, du Ministère de la Culture taïwanais, du Centre Culturel de Taïwan à Paris, de l'American Center for Arts and Culture à Paris, du Fresnoy – Studio national des arts contemporains à Tourcoing, du Centre National du Cinéma et DICRéAM/CNC, de la Région Sud Provence-Alpes-Côte d'Azur, du Département des Alpes-Maritimes, de la Ville de Nice et de l'Hôtel Windsor à Nice.
AVEC LE MÉCÉNAT de la marque BenQ pour les solutions de projection pour la muséographie et celui de la marque Xiaomi pour les solutions télévisuelles.