SHU LEA CHEANG
Virus Becoming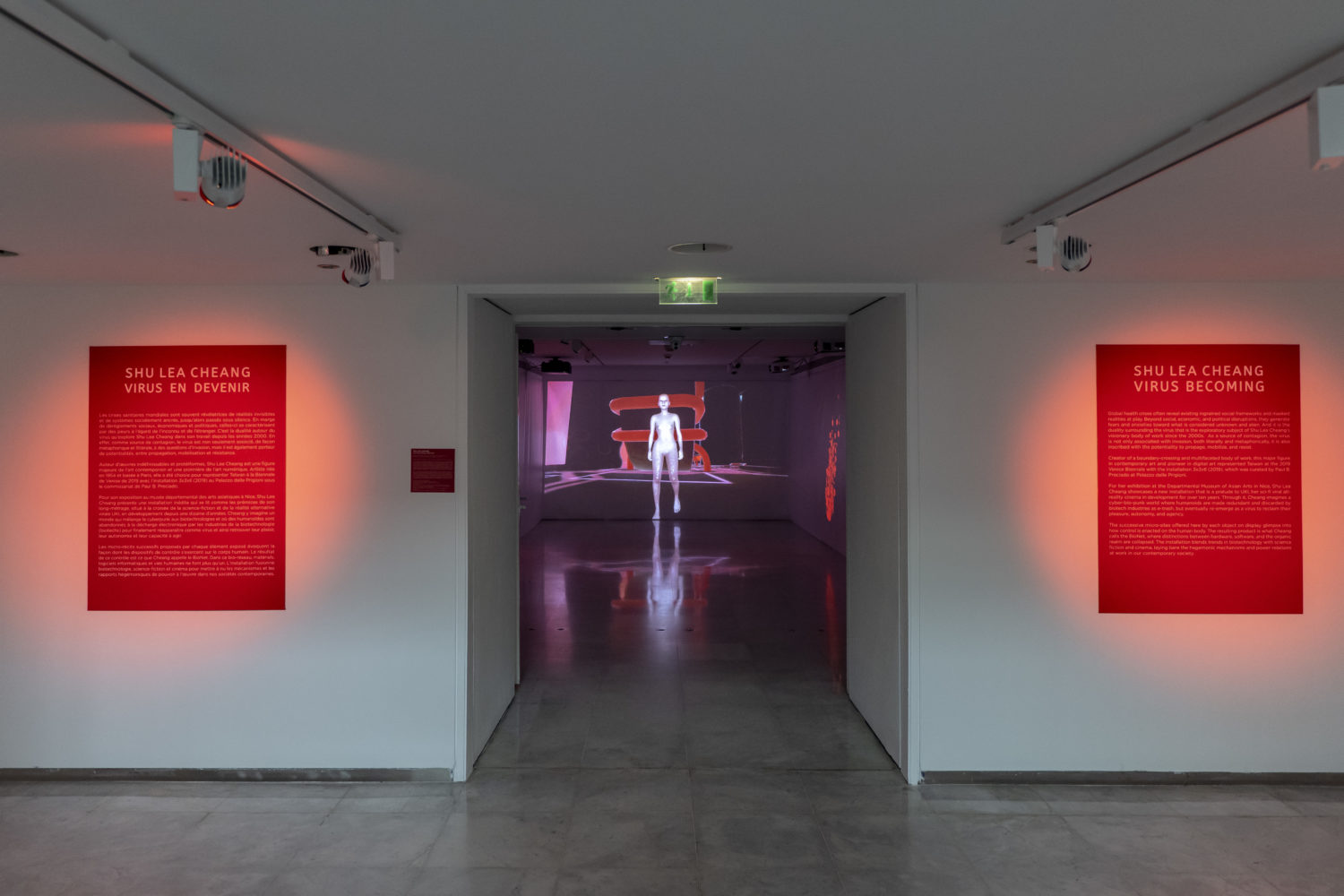 SHU LEA CHEANG, UKI Virus Rising (vues de l'installation), 2018/2021, Installation vidéo de cinq canaux en couleur, son, 10 min en boucle. © Olivier Anrigo
Co-produced by OVNi and The Nice Museum of Asian Arts. Curated by Florent To Lay with Banyi Huang.
Global health crises often reveal existing ingrained social frameworks and masked realities at play. Beyond social, economic, and political disruptions, they generate fears and anxieties toward what is considered unknown and alien. And it is the duality surrounding the virus that is the exploratory subject of Shu Lea Cheang's visionary body of work since the 2000s. As a source of contagion, the virus is not only associated with invasion, both literally and metaphorically, it is also inscribed with the potentiality to propage, mobilize, and resist. 
Creator of a boundary-crossing and multifaceted body of work, this major figure in contemporary art and pioneer in digital art represented Taiwan at the 2019 Venice Biennale with the installation 3x3x6 (2019), which was curated by Paul B. Preciado at Palazzo delle Prigioni.
For her exhibition at the Nice Museum of Asian Arts, Shu Lea Cheang showcases a new installation that is a prelude to UKI, her sci-fi viral alt-reality cinema in development for over ten years. Through it, Cheang imagines a cyber-bio-punk world where humanoids are made redundant and discarded by biotech industries as e-trash, but eventually re-emerge as a virus to reclaim their pleasure, autonomy, and agency. 
The successive micro-sites offered here by each object on display glimpse into how control is enacted on the human body. The resulting product is what Cheang calls the BioNet, where distinctions between hardware, software, and the organic realm are collapsed. The installation blends trends in biotechnology with science fiction and cinema, laying bare the hegemonic mechanisms and power relations at work in our contemporary society.
WITH THE SUPPORT of the Taiwanese Ministry of Culture, the Taiwan Cultural Center in Paris, the American Center for Arts and Culture in Paris, the Fresnoy-Studio National des Arts Contemporains, the Centre National du Cinéma DICRéAM/CNC, the Department of Alpes-Maritimes, the Windsor Hotel in Nice, and the association OVNi Objectif Vidéo Nice.
WITH THE SPONSORSHIP of BenQ for projection solutions for museography and Xiaomi for TV solutions.
UKI Virus Rising, 2018/2021
Installation view, Five-channel color video installation, sound, 10 min in loop © Olivier Anrigo
UKI Virus Rising unveils the beginning of a story. Shown here is an etrashville with ever-morphing roaming virus. In this narrative, a dumped redundant coder formerly owned by biotech GENOM Co., now strives to reboot their harddrive body system. Inadvertently, their frenzy self-coding launches themselves into UKI retrovirus, ready to replicate and infiltrate the BioNet of GENOM Co. UKI virus rising.
UKI BioNet, 2020/2021
Installation view, 4K video with English-French script, color, 2 min 48 sec in loop © Olivier Anrigo
Installation view, 4K video with English-French script, color, 2 min 48 sec in loop © Olivier Anrigo
Through the use of scientific lexicon, UKI BioNet – a sketch explains in details the bio-engineering scheme of GENOM Co. called BioNet in a fictionalized scenario visualized in a 3D sketch. This extract is taken from the science fiction script of UKI cinema in development by Shu Lea Cheang and it involves Operation #harvest which collects human genetic information through hand shake. GENOM Co.'s scientists discuss the red blood cells' processing of DNA data that can affect the production of oestrogen and testosterone hormone. They foresees the glitches in creating another species, an in-between species. The not X, not Y, not M, not F, neutral GEN BETA. 
Petri Dish, 2021
Installation view, single channel color video, 1 min in loop © Olivier Anrigo
This video presents cultures of bacteria in a Petri dish in the lab run by GENOM Co. The cultivated bacteria serves as infiltrating agent entering the red blood cells of human bodies.
Red Pill, 2021
Installation view, 3D printed sculpture of a capsule, glass and plastic, 3D printed blood cells © Olivier Anrigo
RED PILL is an oral orgasmic pill for instant climax consumption. RED PILL originated from an era of post-net-crash, where biotech GENOM Co. sets out to conspire a profitable scheme: reprogram human orgasm into auto-generated, self-sustained pleasure that bypasses the need for human interaction. Working with pharmaceutical enterprises, GENOM Co.further harvests data transactions to produce RED PILL for mass markets.
Red Pill : Your Pleasure Our Business, 2021
4K video, color, sound, 30 sec in loop © SHU LEA CHEANG 
This commercial tells the profitable bio-network (or BioNet) scheme of biotech GENOM Co. Derived from the «no hand shake» rules during the current pandemic, GENOM Co. instigates hand shake as means of DNA data exchange, thus ever expanding BioNet. On the soundtrack, the dial up of a 64K modem from the last century signals a bio-network handshake has been accomplished.
Red Pill : Bloody Red, 2021
4K video, color, no sound, 15 sec in loop © SHU LEA CHEANG 
This commercial showcases red blood cells slowly encapsulated in the RED PILL. Bloody red blood cells make up biotech GENOM Co.'s BioNet scheme. BioNet controls human bodies thanks to these blood cells, which are re-engineered to alter human DNA composition.
General views of the exhibition
Gélule imprimée en 3D, verre et plastique, globules rouges imprimés en 3D 3D printed sculpture of a capsule, glass and plastic, 3D printed blood cells © Olivier Anrigo