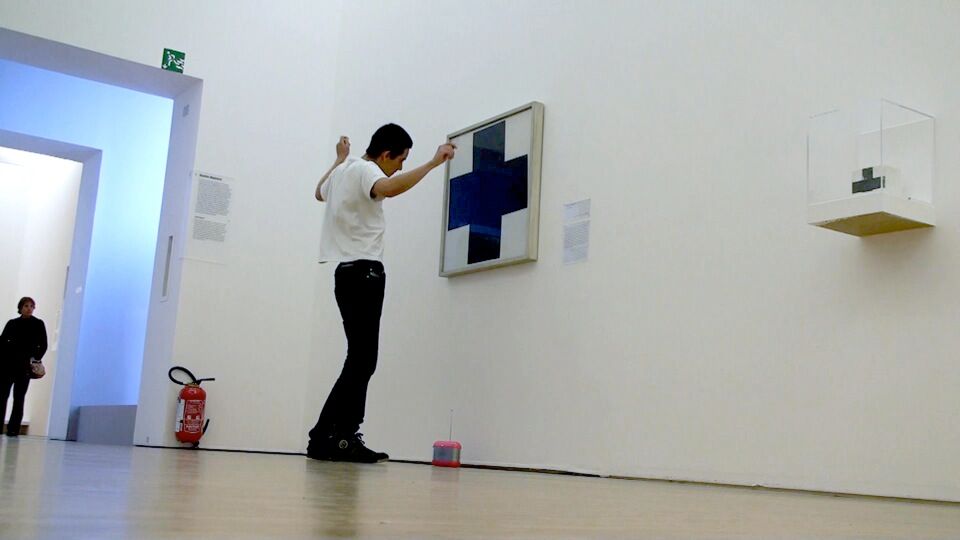 @Argote Ivan
The curators
Florent To Lay's team for the fair : 
Banyi Huang (born in Beijing) is a curator, writer, and designer based in New York (for now). She is interested in exploring aspects of gender, labor, and mythology through digital media and technological production, while her investigative origins are rooted in decolonizing discourses and exploring Asian diasporic identity. Banyi has realized curatorial projects at Special Special (New York), PRACTICE Yonkers (New York), and Assembly Room (New York), and has contributed writing to the Brooklyn Rail, Hyperallergic, Frieze, ArtAsiaPacific, OCULA magazine, Artforum China, and Performa Magazine. 
Vanina Murolo a Napolitan art historian, she continues to explore contemporary art at EHESS with Patricia Falguière and Elisabeth Lebovici. Vanina is interested in body and environment as political sites and her approach is rooted in transfemenist and queer critique. Radical practices are at the core of her research interests as well as  homosexual liberation movements in Italy in the 1970s, the contemporary scene in Brazil and on the African continent.
She partnered with Viviane Letayf in 2017 through the doubleV duo. By inventing new forms of exhibition, they question curatorial practices as a means to expand the scope of possibilities, making them a vehicle of resistance, a tool to enrich artistic language and therefore thought, allowing them to question the way we live together.
Livia Parmantier is an Italian-French art historian. From 2018 to 2020, she was responsible for public at Galleria Continua in France. She is the curator of the review PAN, which brings together several authors around a theme and an artist. In 2018, she graduated in contemporary art history at Sorbonne in Paris where she presented a thesis on the Cuban art scene of the nineties.
Simultaneously French, British and African-American, Alexa Wilkie is passionate about the issue of narrative within the visual arts. Having earned a post-graduate degree in Museum Studies and Cultural Heritage from University of London's School of Oriental and African Studies, where she explored the legacy of slavery  and memorialization in the public space. Her work centralizes diasporic identity with an emphasis on the black experience and decolonizing the gaze. With a background in film, Alexa's interdisciplinary approach to promoting art and culture is inspired by her desire to celebrate the aesthetic imposed by diversity and social inclusion.
Prior to starting a career in advertising account planning & consultancy, Maxime Gicquel spent time studying to what extent poetical writings of some major European poets (C. P. Cavafy whose work is the subject of his final MA dissertation; Y. Ritsos; R. Char; P. Celan) contributed to enrich poetical idioms with renewed political and philosophical meanings. A graduate from Sciences Po Paris (Marketing & Comms), Maxime has also earned a Master's degree in Comparative Literature & Classics. In addition to his advertising position, Maxime serves as the CEO of Neith Nyer, a fashion label created in 2015 by designer Francisco Terra. Maxime lives and works in Paris. 
Sociologist, historian and director of research at the École supérieure d'arts et médias de Caen/Cherbourg, Antoine Idier works on themes related to the history of ideas and forms as well as minority and radical movements. He is the author of books such as Les Vies de Guy Hocquenghem published by Fayard in 2017, Archives des mouvements LGBT+ published by Textuel in 2018, and most recently Pureté et impureté de l'art published by Sombres torrents in 2020.
Julián Sánchez-González is a researcher and writer living between New York City and Bogotá. He is currently pursuing a PhD in Art History at Columbia University. Previously, Sánchez-González completed an M.A. in Art History at New York University's Institute of Fine Arts. His research focuses on the relationship between artistic and spiritual practices in the modern and contemporary eras, particularly in Latin America, the Caribbean, and the United States. His work has been supported by the Fulbright Program, the Ministerio de Cultura de Colombia, and the Fundación COLFUTURO. Sánchez-González's writing has been published by the Museum of Modern Art (MoMA), the Colección Patricia Phelps de Cisneros, Oxford Art Online, Artsy, the Universidad Tres de Febrero (UNTREF), and the Universidad Jorge Tadeo Lozano, among others. 
History, Law, Management, Postcolonial and Cultural Studies, and Art History inform Florent To Lay's understanding of the world in its multiplicity. Eschewing labels as French, Cambodian or Chinese, beyond métissage, he has been trying to create his own Third Space in order to explore issues around cultural hybridity and creolization, investigating the different artistic renditions of Glissant's thought through his work with and for artists. Florent completed an M.A. in Critical and Curatorial Studies at Columbia University. He lives and works between Paris and Nice.