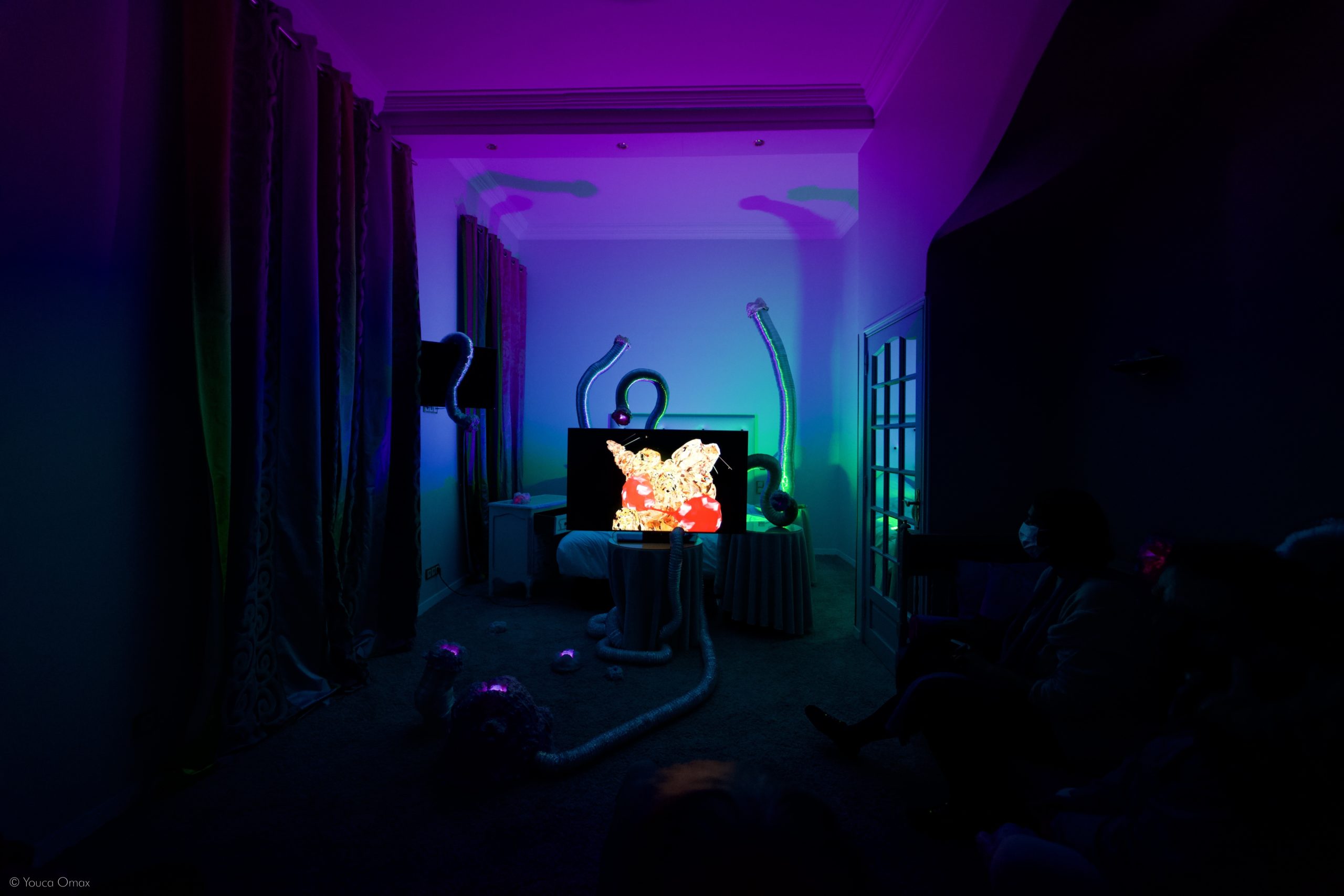 © Hayoug Kim, The life story of GD, 2021
Opening of OVNi in hotels
From Friday December 3 to Sunday December 5, the OVNi festival invites itself to 5 hotels in Nice. Each hotel has a thematic program.
Windsor Hotel
First of all, we find the WindsoR hotel which opens its doors to the « Rencontres OVNi » [OVNi meetings] for a program in partnership with the Forum of Foreign Cultural Institutes in Paris (FICEP). Various artists are then invited to represent their country through videos and immersive installations. We go from the post-apocalyptic Belgium of Clara Thomine to the dreamlike erotic-violent world of Maksen Denis (Haiti), a meditative stay in Poland to observe Estera Tajber folding boats before making a stopover in Mexican mythology alongside Yanieb Fabre.
At the same time, the ORLAN exhibition « Le plan du film » welcomes visitors as soon as they enter the hotel.
The « Grand OVNi » prize will reward the best works of the hotel.
West End & Splendid Hotels
The West-End hotel is reserved for the Sud Emergence prize, which rewards young emerging artists from the Côte d'Azur.
The corridors resonate with the sounds of fireworks by Camille Franch-Guerra as well as the music of Antoine Ceunebroucke before entering the colorful world of Hayoung Kim and then in the bedroom of a elderly person reproduced by Léna Durr.
Next door, in the fitness room of the Hotel Splendid, we find Juliette Guerin and her protein factory in a gym with a strong smell of viandox.
These hotels are imbued with all the creative energy of these young talents who have created ambitious and innovative installations.
Hotel Villa Rivoli
This hotel hosts the Alter-Ego thematic programming. Four artists questioning otherness, pleasure, happiness, social codes, masks or the love that are represented. They then oscillate in alternating states between science and magic, between nature and culture, between feminism and ecology, between sexuality and art.
Hotel La Malmaison
Finally, the hotel La Malmaison hosts the thematic exhibition Dédales. A meditative walk in the image of the videos offered, the viewer is then invited to forge his own story, to question himself about the space that surrounds him, whether real or digital.
Back in pictures
We offer you a taste of the various facilities presented in these hotels via the slideshow available under.