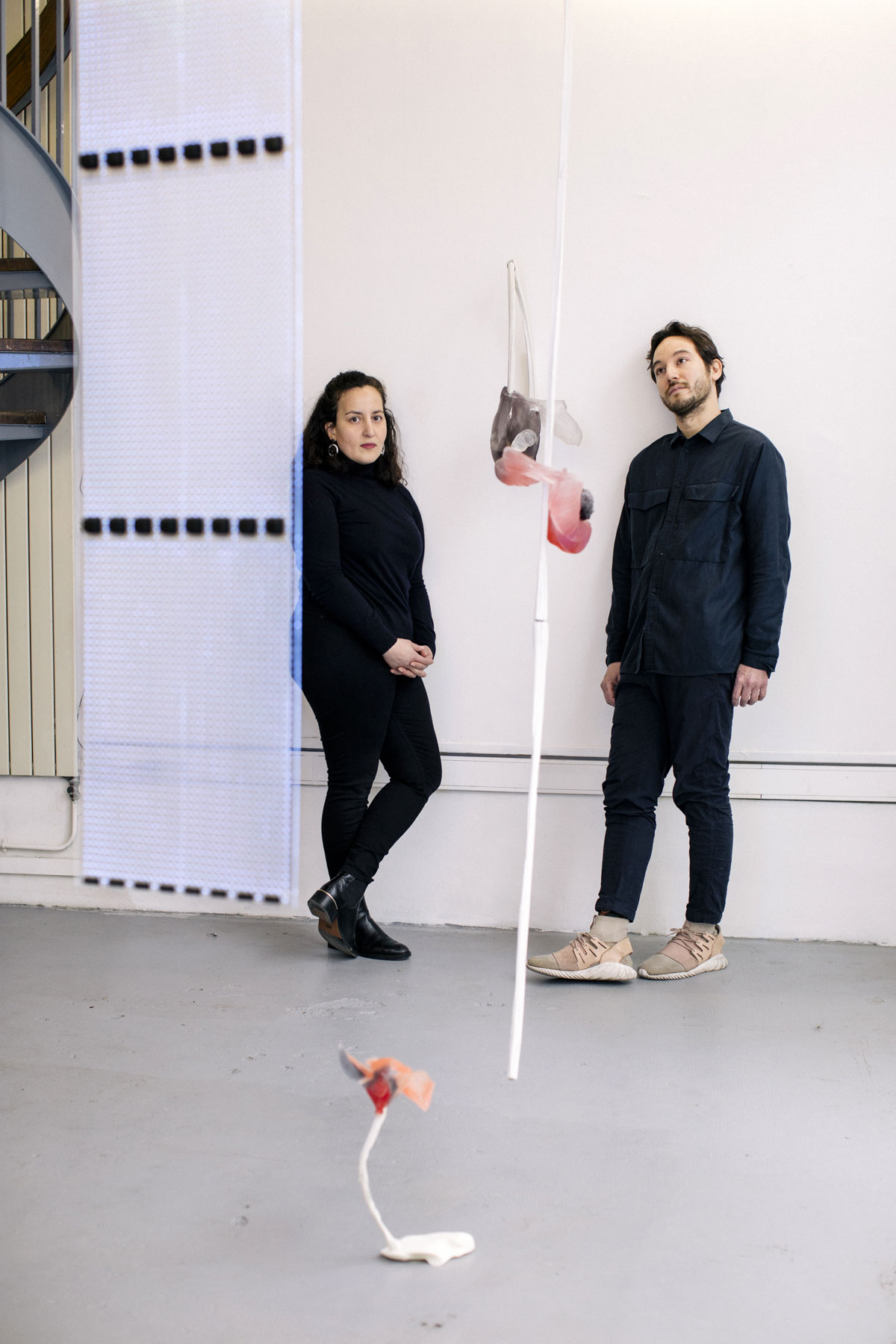 © Ittah Yoda, Never The Same Ocean, 2021
Ittah Yoda
Never the same ocean
In partnership with the Institut de la Mer de Villefranche 
The Windsor Hotel welcomes the artists duo Ittah Yoda in residence from 6 to 15 April 2021, for the development of a research partnership with the Institut de la Mer de Villefranche. This exchange between art and science is based on the artists's desire to include living forms in their work, those of marine micro-organisms invisible by eye. The result of this collaboration will be an immersive installation entitled CHRONOS, which will be presented at the OVNi festival in November 2021, in Gottfried Honegger's room at the Windsor Hotel, where the artists currently reside. 
Ittah Yoda's work is situated between the tangible dimension of a material production and the incorporeal world of virtual reality. Each work stems from a single initial form, an « alpha » sculpture in silicone whose size and contours can be infinitely varied through the modification of algorithms. The variations generated are then transposed into sculptural forms or « three-dimensional painting » and are also integrated into the virtual reality work. Each production thus retains a kinship with the one that preceded it.  
These do not refer directly to reality. They refer to a reminiscence of primitive forms, to an intimate internal state. Their silhouette evoks an organic form, a fossil, the posture of a curled-up body. The materials used, such as polyurethane or silicone, whose texture is reminiscent of the skin, encourage the viewer to get closer and to manipulate. The photosensitive pigments of acidic colour (that sculptures are made of) generate a progressive variation of colour according to the light and the ambient temperature.
This active relationship with the material is reflected in the experience of virtual reality. It functions as an independent living organism in constant evolution with which the viewer is invited to interact. The work is accessible through a headset allowing the immersive exploration of a digital landscape made up of floating forms and dazzling colours.  The experience is enriched by a sound environment that encourages a state of meditation. Gradually, the viewer surrenders to a new perception of time and distance that stretches and moves away from the usual mental patterns. A distancing from reality occurs when the helmet is removed to return to the material world, and it is with new eyes that we observe our world. The experience of a new reality is situated in this shift, leading to several philosophical questions. Is it possible to renew our relationship with the world, can we open up to a broader vision of our environment? 
CHRONOS will give rise to a larger-scale virtual reality installation that will call upon our four senses: sight, hearing, smell and touch, in a fluid exchange between the real and virtual worlds. This project is also part of their new commitment to produce their works with natural materials such as glass and wax. An important transition for the future-oriented message they wish to convey.
Curated by Livia Parmantier.
About the artists:  
Ittah Yoda is formed by Kai Yoda and Virgile Ittah based between Berlin, Paris, Provence and Tokyo. They both attended the Royal College of Arts in London. Coming from diverse backgrounds, they developed their artistic identity as a duo through a vector of cross-cultural creative collaborations combining traditional craft with science and digital, with a focus on collective time and « Deep time ». Recent and upcoming projects include; Les Rencontres d'Arles, Arles (FR); Mutation, Akademie Schloss Solitude, Stuttgart (DE); Artist Running Festival, SODA, Kyoto (JP) Ovni Festival, Nice (FR) Sprout Curation, Tokyo (JP); PM/AM Gallery, London (UK); Carlier Gebauer, Berlin (DE); Gr_und, Berlin (DE); Averard Hotel, London (UK); Annka Kultys Gallery, London (UK); and Nicodim Gallery, Bucharest (RO). Ittah Yoda is a recipient of the Stiftung Kunstfonds (DE) and the Cité Internationale des Arts (FR), VR residency of the Institut Français (FR), VR inc by Format C + SWS (HR), Sigg Art Residency (FR), and Résidence Rupert (LT). 
Ittah Yoda website: https://ittahyoda.com/ 
Website of the Institut de la mer de Villefranche: https://www.imev-mer.fr/web/