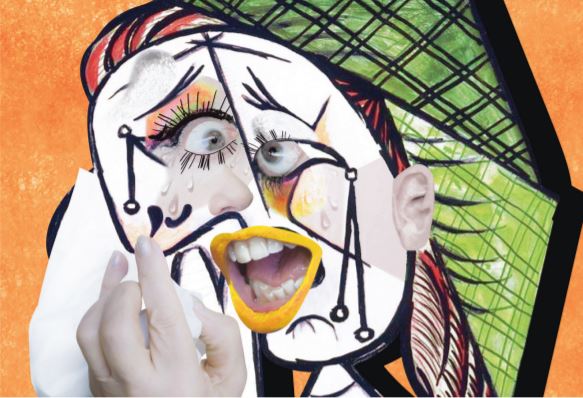 © ORLAN, SELF-HYBRIDATION ENTRE FEMMES, (ACTE 2 : LES FEMMES QUI PLEURENT SONT EN COLÈRE N°6), 2019
ORLAN takes over the city
The ORLAN wave will invade the OVNi galaxy. Come and discover her works scattered around the city from 19 November to 5 December.
19 November 6pm, opening night of the festival
From the opening of the OVNi festival at 109 (the former abattoirs of Nice), ORLAN, guest of honour of the festival, will be present in the Grande Halle alongside the exhibition of Mathilde Roman and those of the partner venues (Le Hublot, Le Forum de l'urbanisme, La Station).
The OVNi proposal « Nature-Counter nature » will bring together young artists (Miguel Angel Fernandez, Jérémy Griffaud, Thomas Goux, Florian Schonerstedt) who play with the elements of nature in the same way that ORLAN plays with his body, in the form of Écorché: his exposed muscles are an anatomical self-portrait and a manifesto on issues of racism, feminism, politics, religion, history…
20 November 2pm, opening of the « OVNi en ville » exhibition in the presence of ORLAN at the Eva Vautier Gallery
ORLAN's latest series of hybrid photographs Les femmes qui pleurent sont en colère (Women Who Cry are Angry) features the women in the shadows, the inspirers, the models, the muses who have always played a major role in the fame of the great masters.
 
At the same time, ORLAN Remix, commissioned by SOS Racisme, will be screened, based on a sequence from the film Clair de femme, by Costa-Gavras, based on the book by Romain Gary, in the scene in the film where Yves Montant is waiting for Romy Schneider, who does not come…
21 November 5pm at the Théâtre national de Nice
Strip-Tease, round table and performance
Muriel Mayette-Holtz will give a triumphant welcome to ORLAN who will perform a « Strip-Tease » in front of the guests: Maurice Fréchuret, Gérard Holtz, Muriel Mayette-Holtz and Alain Quemin.
ORLAN will also answer questions from the audience and bring bodies together by dancing the slow, his new sound performance – a body to body encounter entitled Le Slow de l'artiste in close collaboration with Charlemagne Palestine, Jean-Claude Dreyfus, Les Sans Pattes and les Tétines noires.
3, 4 and 5 December at the Hôtel WINDSOR
>ORLAN will make her cinema in Le Plan du film where she plays with the codes of the feature film by deconstructing the promotional structure of the film.
>Video : ORLAN, staging for a big FIAT 1984, 19′.