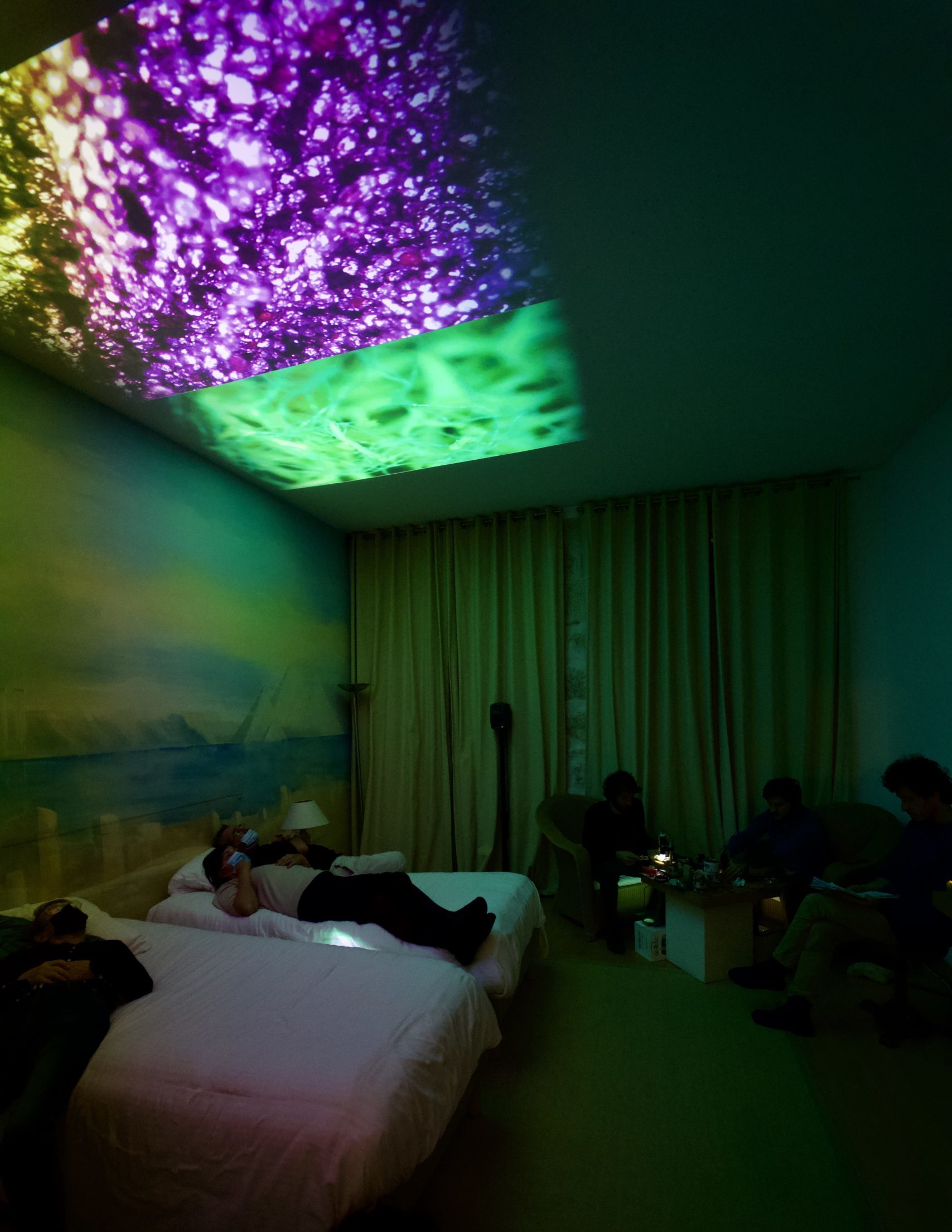 Vue d'exposition © OVNi
Festival's concept
What is OVNi?
The association Objectif V. Nice organizes since 2015 the international video art festival OVNi.
The originality of the festival lies in the promotion of video art according to two axes: the first one honors the contemporary creation and those who made the history of video art since the 60s through some programs; the second one is a focus on the creation of emerging artists from the South region.
Another specificity of this festival is to propose two routes: one on the territory of the Nice region, the second in the hotels. This one is at the heart of the creation of the festival by the singularity of the proposal of artists diffusing their works in dedicated rooms.
The temporality of OVNI: each year from mid-November to the beginning of December, the festival programs take place over 18 days and three weekends.
Weekend 1: Opening of the festival with the Parcours en Ville(s) marked by the opening of the OVNi XXL exhibition hosted in the large hall of the 109 | Pôle de Cultures Contemporaines de Nice and programs designed by the residents such as the Station, the Forum de l'Urbanisme le Hublot, and by in situ festivities This first weekend is also the opening of programs and projects initiated specifically by or for OVNi in the region's cities.
Weekend 2: Programming and events in various cultural and/or unusual places. Our partners in the cinema, galleries, bookshops, chapels, museums and other surprises created each year, receive or design proposals for targeted screenings.
Weekend 3: The Hotels, the soul of OVNi! The public is invited to wander through the historic hotels receiving three types of programs respectively.
The first program is dedicated to emerging artists from the South and crowned with the OVNi Sud Emergence Prize ; the second is the Cosmopolis Project bringing together the cultural services of embassies and consulates (under the aegis of the Ficep – Forum of Foreign Cultural Institutes in Paris), and international cultural centers, foundations and associations, it is accompanied by the Cosmopolis Prize supported by the High Energy Center (CHE-Nice); the third is the guest curator program.